'Blog Madhuri blog!!', my sister says, everyone says, and I think to myself what to blog? Why to blog? Might as well watch my TV serials or play video games. No no a much better thing to do would be to stare at the blank wall sitting on my easy chair- my favourite pass time in the whole world. Write about our visit to Mumbai, my sister says. Ok I said and started off and when I did, I realised I have so much to share with everyone. Unlike other times, this time we were to spend 10 days in Mumbai for 2 performances, workshops and a lot of meetings.
Guess where we were staying? A hotel right next to Mondegar (A very happening cafe)! Wow! Spending time here will be very interesting, I thought to myself. Everyday religiously we would give attendance to Leopold (another joint which faced the 26/11 attack) and Mondegar and soon getting a table was not so hard, as the managers became our friends!
There is so much colour, so many shades of individuals in Colaba that it is enough to drive an artist mad with excitement! Along with Prince of Wales museum and the National Gallery of Modern art you can find Jewellery, Jutthis, Arabian pants, Suitcases, Chaatwaalas and even exclusive Iranian food! What I found most interesting was that a yogi type of person had set up a whole Ayurvedic shop in the footpath. He had a cure for every ailment including weight loss!
In the morning I went jogging at Nariman point right next to the Arabian Sea and what an experience that was! Jogging to me is a way of meditating and being next to the sea made me feel one with the universe. I really enjoyed soaking in the Maharashtrian culture.
No introduction to Mumbai is complete without talking about the taxis and autos! 'Bandra Chaloge bhaiya?' 'Lower Parel Chaloge?' 'Chaliye madam', is always the answer. No questions asked, no fuss. I feel Mumbai is really a tourist's paradise because of the accessibility the local transportation provides. Incidentally one of the taxi guys asked us if we were from Sri Lanka confusing our kannada language to be Sinhala. Talk about being a foreigner in your own country!
I also met some crazy artists (who were initially Bangalorians!) who made me get in touch with my free college days. There is one friend of mine who draws stick figures of his dick doing the balancing act, playing ping pong etc. in the pages of his website and another one who sits all day at Mondegar to sketch people. She also got to photograph Mario Mirando re-work on his cartoons, on the walls of the café (lucky girl). Apparently he still has all his old stencils!
I got to spend Woman's Day with my aunt and 2 cute cousin sisters. We opened a bottle of wine and chatted about this and that enjoying all the girly giggles. That night was Holika Dahan where people make a bonfire, which symbolises triumph of good over evil and whatever one wished for on the fire, came true. Well I wished for …sorry, can't tell you that, it's a secret! The next day my cousin asks me, 'Do you want to throw coloured balloons on people from the balcony?' I was like, 'Do you do that here, man, Mumbai rocks'.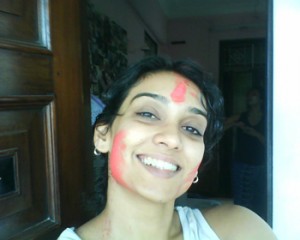 I so wanted to stay back and play Holi but had a flight to catch. Gosh I miss Mumbai!